Would you like to have these great deals delivered right to your inbox? Subscribe to our email digest. Or if you use a feed reader, subscribe to our RSS feed. Thanks for stopping by!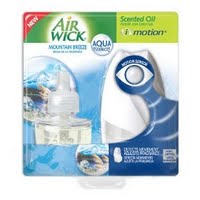 I  checked out my local Walmart last night for the first time since we moved and found a nice little deal on the Air Wick Scented Oils i-Motion Starter Kits.
They were on an end cap for $5.  I used my $4/1 coupon from the SS 9/13 insert to score mine for $1! 
I already have one of these and love it.  Makes my new house smell sooo pur-dee!