Would you like to have these great deals delivered right to your inbox? Subscribe to our email digest. Or if you use a feed reader, subscribe to our RSS feed. Thanks for stopping by!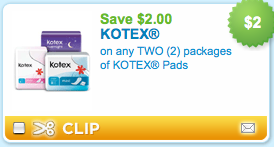 Coupons.com just added some Kotex coupons that I recommend printing asap!  Click on 'Personal Care' in the left sidebar to find them more quickly:
Save $2/2 packages of KOTEX Pads
Save $1.50/2 packages of KOTEX Tampons
Save $1.50/2 packages of KOTEX Liners
Small packages of Kotex pads are priced around $1 at Walmart.  Use the $2/2 coupon to score two package for FREE!
There is also a $1/1 Kikkoman sauce printable here.  Here's how you can use it to score some for FREE at Walmart:
Kikkoman Sauce 5-ounce, $0.97
Use $1/1 printable coupon
Free after coupon! (Thanks, Pocket Your Dollars!)
Note: Prices at Walmart vary by region.  Let me know if yours is different!
Click here to see more current deals at Walmart this week.