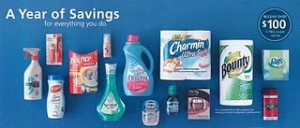 UPDATE: Procter & Gamble has extended their offer through May 31, 2010! Must be postmarked by June 15.  Thanks, Robin!
Procter & Gamble is again offering the "A Year of Savings" Coupon Book containing $100 in coupons.  To qualify for this booklet you must make a purchase $50 worth of participating P&G products between 2/1/2010 and 4/15/2010. The good news is that the $50 is BEFORE tax and coupons!  Once you have spent $50, you must:
Circle the P&G products on your original receipts. Multiple receipts qualify.
Mail the form and your original receipts to: P&G Year of Savings, Dept. M, P.O. Box 460643, El Paso, TX 88546-0643.
You can find the official rebate form here or look for them in the 2/21 inserts.  Allow 6-8 weeks for your coupon book to arrive.
I loved having my $100 Savings Coupon Booklet this past year.  Many of the coupons are high value and helped me score some great deals.
Thanks, Money Saving Madness!
I will be sure to highlight any great Procter & Gamble deals over the coming weeks to help you spend much less than $50 out of pocket for this book!