Would you like to have these great deals delivered right to your inbox? Subscribe to our email digest. Or if you use a feed reader, subscribe to our RSS feed. Thanks for stopping by!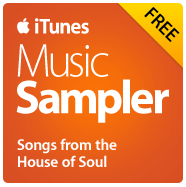 Become a fan of iTunes on Facebook and you can download a 15 song Free Sampler called "Songs from the House of Soul".  Click on the Featured tab to do so.
Thanks for the heads up on this, Brittany!