Would you like to have these great deals delivered right to your inbox? Subscribe to our email digest. Or if you use a feed reader, subscribe to our RSS feed. Thanks for stopping by!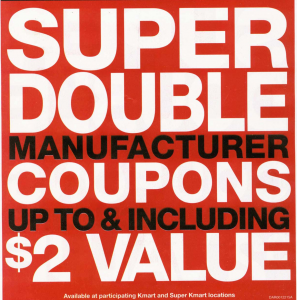 Did you all hear the good news?  Kmart is going to be holding a Super Doubles Event the week of April 4 in participating stores.
Jennie from Bargain Blessings passed along this link to a master list of stores that will be participating.   Is yours on the list?
Here are the 'rules' for this event thanks to Mercedes:
"This event is for select participating Kmart locations from 04/04/10 to 04/10/10.
The rules for this event are:
Manufacturer coupons up to and including $2 value will be doubled. Doubled up to $2 no matter what the retail price of a single item is. This offer does not include Kmart store coupons or Kmart Pharmacy store coupons. Limit 5 total coupons per customer per day. The first 5 coupons provided by customer will be doubled."
Should be fun!