Would you like to have these great deals delivered right to your inbox? Subscribe to our email digest. Or if you use a feed reader, subscribe to our RSS feed. Thanks for stopping by!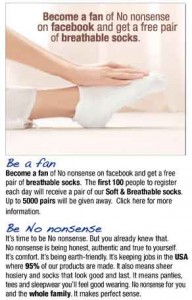 No Nonsense is giving away 100 pairs of Women's Soft & Breathable socks each day for 50 days.  To enter, you will need to become a fan of No Nonsense on Facebook and then enter on their giveaway page just after midnight in order to be one of the first 100.  (I'm assuming that this means midnight EST time.)
Looks like you'll need to be a Night Owl or a West Coaster to win this one!
Thanks, Savvy Spending!