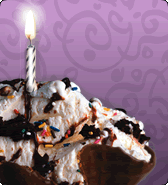 We went to Cold Stone Creamery the other night so our boys could use their FREE birthday ice cream coupons.  I thought I'd just share this little reminder about ways to score even more FREE ice cream on your kids' birthdays (and yours too, of course!).
Join Best Friend's of Friendly's and receive a FREE single cone with any purchase.  You'll also get a coupon for a free 3-scoop sundae with any entree when you sign up…no birthday required!
Check out even more Birthday Freebies that I've posted!