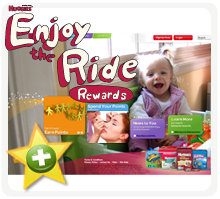 I was so excited to find this new code because I had codes from diaper and wipes packages that I've been meaning to enter for about a week. I'm glad I procrastinated now!
Right now when you enter your codes from diapers and wipes packages, you can get double points!  Simply follow these instructions:
When you do that a box will pop up asking you to enter a security code.  In the bottom left of that box, enter coupon code 76320755 to double your points!
You can use the double code multiple times and it expires 10/31/10. Codes not from packaging cannot be doubled.
Thanks, One Mama Saving Money!
If you are looking for other codes to enter, check out my Huggies Rewards Codes database (note: these codes cannot be doubled). You can use it to play Instant Win games or enter some Sweeps at Enjoy The Ride Rewards.  You can also opt to save your points toward items in their rewards catalog.
Thanks to Melissa and Sarah for helping me update my database.  If you find any expired codes, can you let me know?  I try to keep it as updated as possible!
Not familiar with Huggies Enjoy The Ride Rewards?  Read more here.