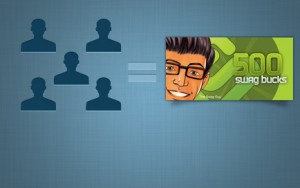 I'm excited to share about this new offer from Swag Bucks–especially for those of you who have joined the Cha-Ching! Christmas Club.
One of the absolute best ways to earn Swag Bucks is by referring friends using your own personal link.  (You can find it under 'Promote' then 'Promote Banners' in your Swag Bucks account.)  You will earn up to 1,000 matching Swag Bucks that way without any effort on your part!
Right now you can earn an additional 500 Swag Bucks when you refer 5 friends.  Here's how:
Get at least 5 new referrals who are NOT members of your household or sharing an address with you.
Each referral must earn 50 Swag Bucks after joining, not including any bonuses they may get during sign up.  (This is not hard to do if they are searching daily.)
Once your 5 (or more) referrals each earn that minimum of 50 Swag Bucks, you've qualified for a bonus of 500 Swag Bucks, which will be applied at the end of each month, so if you've get it done in October, you'll earn your bonus early! If you earn it in November, you'll get your bonus then. Only one bonus per person. This is in addition to the 1000 in matching search bucks that can be earned from each referral.
PLUS through October 17 new members can use code 5For5 during sign up will get a bonus 70 Swag Bucks when you sign up in addition to the 30 that new members receive normally.  So be sure to let your friends know that when you invite them to join!