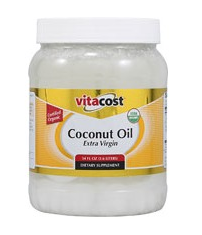 If you've been wanting to give organic coconut oil a try, this is the deal of the century…
You can get a smokin' HOT deal on some organic coconut oil right now. Here's how:
Promo code will arrive via e-mail within a couple of minutes.
Add this 54 oz jar of Organic Extra Virgin Coconut Oil to your cart for $20.99
Use your $10 promo code at checkout.
You'll get FREE shipping for your order being over $20.
You pay only $10.99 shipped for the coconut oil.
This may not seem like a fabulous deal, but I can promise you that $10.99 for a 54 oz jar of organic coconut oil is an INCREDIBLE buy.
If you'd rather use your $10 credit on something else, the FREE shipping promo is running through 3/15/12. You get free shipping on any Vitacost-brand products when your order is over $20.
If you're new to Coconut Oil, it is a very healthy oil that has many uses. It can be used on skin as a moisturizer, in place of other oils when cooking, and much more. It goes GREAT with stovetop-cooked popcorn. It gives the popcorn a slightly sweet flavor that blends deliciously with the salt.
Thanks, Pocket Your Dollars!