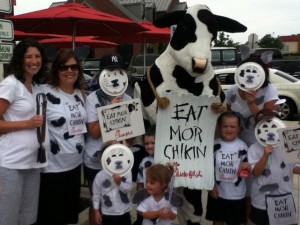 Mark your calendar.  On Friday, July 13, 2012 Chick-Fil-A is celebrating Cow Appreciation Day by giving away a FREE meal to anyone who comes dressed as a cow!
Wear a partial cow costume and get a FREE entree.  But if you dress up from head to hoof, you'll receive an entire meal for FREE!
You can download their starter costume kit here.
As you can see by the picture, we sure had fun with this last year.  I can't wait to do it again!  It's definitely going on my Project Summer Fun To Do List.