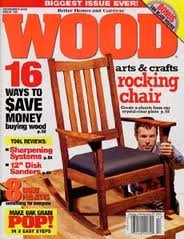 Hurry and sign up for a FREE one-year subscription to Wood Magazine. No strings attached. Just fill out the form!
A little bit of info about the magazine:

"The #1 magazine for home woodworkers. WOOD Magazine, which was launched in 1984, features shop-tested tips and techniques for accuracy, tool reviews and interviews with other woodworkers."
The FREE subscription to Working Mother Magazine is still available, too!
Thanks, Money Saving Mom!