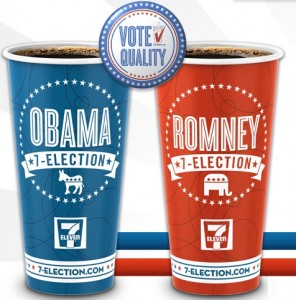 In addition to the FREE coffee at participating McDonald's this week, there are a couple of other opportunities to score some FREE Joe:
Stop by 7-Eleven from 6-10 am on Friday September 28th for a FREE cup of coffee and cast your vote for the next president by your cup selection. (7-Eleven claims that their 7-Election event has accurately predicted the president for the last three elections!)
As always, I recommend calling ahead to be sure your local store is participating.