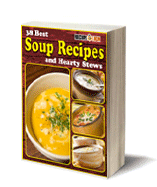 Looking for some warm and comfy soup recipes as the cooler weather arrives?
Download this FREE eBook: 38 Best Soups and Heart Stews Recipes. It has recipes for pumpkin and bean soup, cream of broccoli, slow cooker potato soup, butternut squash soup, beef stew, and many more! YUM.
This Post May Contain Affiliate Links. See my Disclosure Policy.