Check out the latest installment in the Dollar Store Diva's Holiday series AND check off a stocking stuffer at the same time!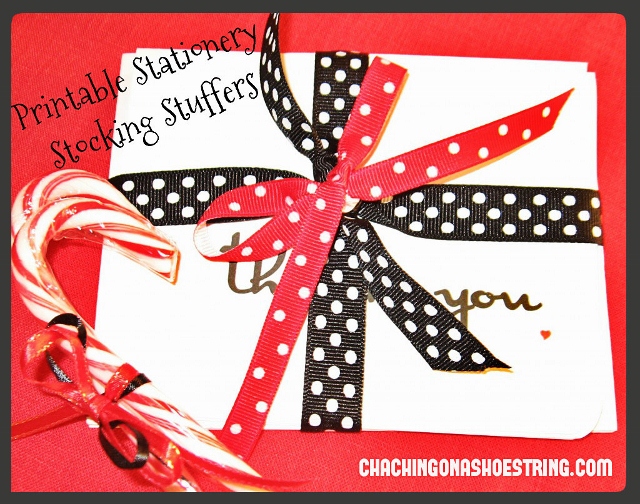 I love stationery, and I love the notes that are jotted on the stationery. Recently I came across this picture of a note card.  I was riveted by it. Its stark simplicity gave power to the simple message–MISS YOU/LOVE YOU. I was also drawn by the black lettering, with the red heart adding a touch of warmth and color.
Using its FREE printable,  I immediately printed some to give as stocking gifts.
Then I started thinking of other friends, neighbors, and co-workers I could give a gift of note cards to. I decided to design some of my own, with their own simple message, using the black print and the touch of red.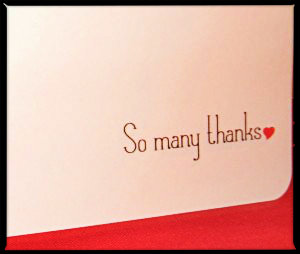 Miss Frugality that I am, I decided that, not only is the smaller font striking, but it also saves printer ink

And, of course, I had to create others to share with you. Find my FREE stationery printables here and create to your heart's content. Tie them with black and red ribbon, and you have a gift you can give with pleasure.
For envelopes, I buy note cards at the Dollar Store simply to use the envelopes. I watch for cards with envelopes that measure 4 1/2 x 5 3/4. [If I'm lucky, I can use the envelopes for my handcrafted note cards, and then I can cut the front off the Dollar Store card and use it as a postcard. Two bangs for the buck!]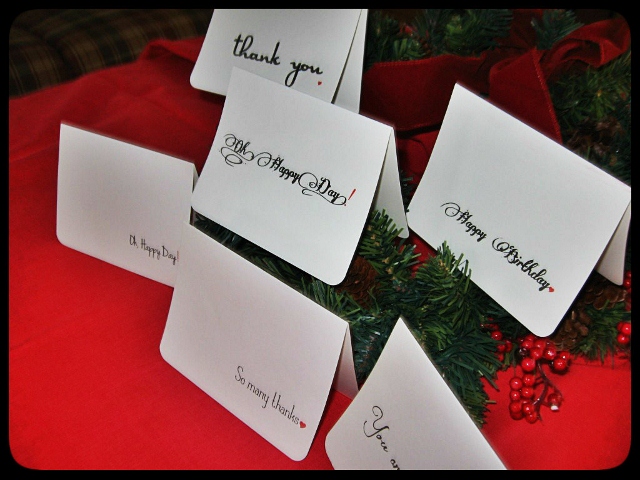 But wait! There's more!
There are two more parts to You'll want to make a note of this!
Stay tuned to Dollar Store Diva for Part 2–more lovely note cards to make, and Part 3–brown lunch bag wrapping ideas that will make your heart go pitter-patter.
Check out more Dollar Store Diva ideas here!
***
For those of you who haven't met her, the Dollar Store Diva happens to be my Mom who has a special power.  She can transform Dollar Store and other inexpensive finds into super fun gifts that would brighten anyone's day!
This Post May Contain Affiliate Links. See my Disclosure Policy.