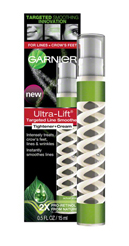 Hurry and claim a FREE sample of Garnier Ultra Lift Targeted Line Smoother on the Target.com website!
While you're over there, you should re-try for the Lysol Touch of Foam sample. Some people are reporting being able to get it this time around, when they weren't able to last time.
While supplies last! Sample should arrive within 8-10 weeks.
Be sure to check out more great freebies that I've posted here.