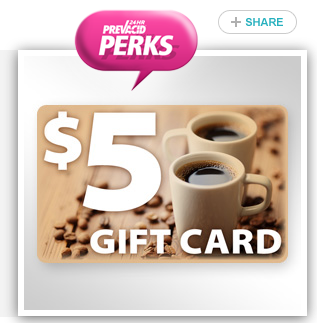 Prevacid is offering a FREE $5 Starbucks Gift Card when you enter a Prevacid24HR UPC code.
Here's how to turn this into a moneymaker at CVS:
CVS through 7/20:
Prevacid24HR (14 ct.), $9.99
Buy One, Get $2 ECB (Limit 3)
$6/1 Prevacid coupon
Pay $1.99 after coupon and ECB
$3.01 moneymaker after gift card!
Here's how to claim your gift card:
Head over here to sign up (I had to sign up again even though I did when I printed my coupon).
Click through the confirmation email that you are sent.
Select '$5 Premium Coffee Gift Card' as your reward.
Click 'Next Step'. (Don't enter the UPC code as a retailer code.)
Enter your UPC Code in the 'Submit a UPC code' box.
Your card should arrive via email in about 1 week.
Thanks, Clip and Follow!