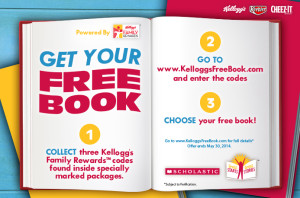 Have you signed up for Kellogg's Family Rewards yet?  Get exclusive coupons and earn rewards from your favorite Kellogg's® brands when you sign up here.
Here are some codes to earn up to 390 FREE points:
Healthyreturns20 – 20 points
GROCERIESFROMKFR – 50 points
textinmykfrcodes – 50 points
HOWITWORKS20PNTS -  20 points
JOINKELLOGG2SAVE – 50 points
SCHOLASTICSWEEPS – 50 points
KFRHOMERUNTICKET – 50 points
Text Baseball to 89332 to get a Kellogg's Reward Codes worth a possible 100 free points  (Thanks, FTM!)
Plus right now they are offering a FREE Scholastic book when you enter 3 different codes from specially marked Kellogg's, Keebler and Cheez-it packages.  You can enter your codes here under the Special Offers tab.  Once you have three codes you can simply select and request your FREE Scholastic book.
Please note:  These specially marked boxes will say "Free Book" on them.
Codes must be entered and redeemed by 5/30/2014 at 11:59:59 PM (ET). You may enter up to 60 Great Start codes toward Scholastic books throughout the duration of the program.
This Post May Contain Affiliate Links. See my Disclosure Policy.