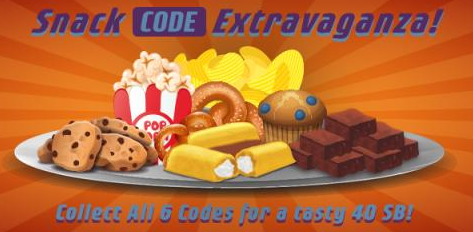 Who's hungry? Swagbucks is having a "Snack" Code Extravaganza, which is one of the easiest ways to earn SB! What are SB you ask? SB are points you earn on Swagbucks, a website where you can get gift cards for the things you do online – I've gotten HUNDREDS of dollars in gift cards with Swagbucks! These are the best days to start!
It takes place Wednesday, April 26th at 10am EST and goes until 8pm EST! All you have to do is look out for the Swag Code notifications, enter the code, and you earn SB (which can be redeemed for gift cards)! There will be 6 Swag Codes throughout the day worth a total of 40 SB!
New to Swagbucks and want to join me in earning free gift cards every month? Sign up here for your free account. Be sure to use my exclusive code CHACHING70 to start off with 70 FREE SB! (Just click on the words, "I have a sign up code.") Then get started earning free $3 – $50 Gift Cards or PayPal cash by taking surveys, searching the web, watching videos, or shopping online.
Click here to find out how to earn a FREE $25 Amazon gift card every month with Swagbucks!