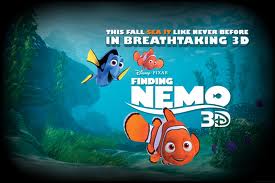 Do you have kids at home who are super excited about seeing Finding Nemo 3D in theaters? If so, here's a SWEET deal! If you do everything correctly, you should be able to get two FREE Finding Nemo 3D movie tickets!
Here's what to do:
Head over to Amazon and purchase a DVD from this list of eligible Disney movie titles. There are some really fun choices. You must make this purchase before October 14th. Great opportunity to grab an early Christmas gift!
After your DVD ships, you'll receive an e-mail within 48 hours. It will contain your freebie code and instructions on how to get your FREE Finding Nemo 3D movie ticket.
Then, once you receive your DVD in the mail, look for the "magic code" on the DVD. Head over to Disney Movie Rewards to enter this code for another FREE Finding Nemo 3D movie ticket!
How about that?! You're at least guaranteed one FREE movie ticket through Amazon. The second FREE ticket will depend on whether or not the DVD you receive has the "magic code" on it. Good luck!
Thanks, My Frugal Adventures!