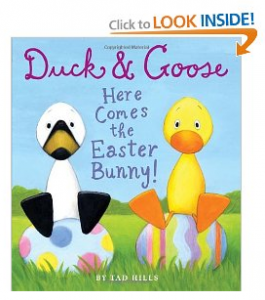 Amazon has quite a few Children's Easter Books included in their Buy 3 Get 1 Free Book Promotion right now. Head over here to browse through some of the titles that are available.
Here are just a few of the books included:
Duck & Goose: Here Comes The Easter Bunny! – $6.99
Fancy Nancy's Elegant Easter – $6.99
Max's Easter Surprise – $3.99
Elmo's Easter Parade – $4.99
The Berenstain Bears and The Easter Story – $4.99
Easter Eggspress! (Thomas and Friends) – $3.99
The Night Before Easter – $3.99
The Easter Story – $3.95
An Easter Gift For Me – $6.99
Mickey's Easter Hunt – $4.99
What Is Easter? – $6.95
The Biggest Easter Basket Ever! – $4.99
And many more! Be sure to browse through all the pages to find all the Easter goodies. Simply add 4  books to your Amazon cart, and the price of the lowest book will be deducted.
Thanks, Passion For Savings!