Coupons 101
When I first started using coupons a little over a year ago, I knew nothing.  Zilch.  Zero. I assumed that as long as two coupons weren't exactly the same, I could use as many as I wanted on one item.
That's why when I found a good deal on diapers, I gathered every single printable, store, and manufacturer's coupon I could find and plopped down about 12 coupons–to use on one package of diapers.
I'm surprised the cashier didn't laugh in my face.
In an effort to save you the embarrassment of such a situation, I thought I'd share a little tutorial on coupons.  It's all quite simple, actually.
Here are 'the rules':
You can only use one manufacturer's coupon per item.  You will know a manufacturer's coupons because  "Manufacturer's Coupon" will be printed on it.
Most stores will allow you to use a manufacturer's coupon and a store coupon on the same item.  This is called stacking coupons.
If the coupon value is greater than the item value, you may be able to make money on that item in some cases.   In most cases, when stores will not allow an overage you can ask them to reduce the value of the coupon to simply make the item free.
In most cases, if there is a Buy One Get One Free sale, you can still use one coupon per item.
If you have a Buy One Get One Free coupon, you can combine that coupon with a Buy One Get One Free sale and get both items for free!  (This policy can vary from store to store.)
In the world of money saving blogging, you will discover another language you didn't know existed.
Coupon Lingo:
ECB – Extra Care Bucks – CVS "money" printed on receipts to be used like cash in store on your next purchase.
RR – Register Reward – Walgreen's "money" printed on receipts to be used like cash in store on your next purchase.
ESR – Walgreen's Easy Saver Rebate Program
ESC – Walgreen's Easy Saver Coupon
OOP – Out of Pocket – actual cash paid
BOGO or B1G1 – Buy One Get One FREE!
SS – Smart Source insert in Sunday's paper
RP- Red Plum insert in Sunday's paper
P&G or PG – Procter and Gamble insert in Sunday's paper
V – Valassis
Peelie – Peelable coupon located on packages
2/$5 – This means 2 items for $5, can be any combination.
$1/2 – This means $1 off of 2 items, can be any combination.
WYB – when you buy
MIR – Mail In Rebate
PSA -  Prices start at
mfr – manufacturer's coupon
crt – cash register tape
cat or catalina – a coupon printed at the end of a receipt (often as part of a promotion when you buy certain items.)
Sunday papers contain three basic sets of coupons: RedPlum, SmartSource, and Procter & Gamble. (Some regions also carry Valassis coupons, but mine does not. These coupons are the same as RedPlum.) Some weeks they carry all, and some just one or two.
You will discover on this blog and any other money saving blog that other people want to do the work for you when it comes to finding deals and matching the coupons.  Therefore, you no longer need to do the 'coupon hunt'.  We will tell you the exact coupon to use on a deal.  Sweet, huh?
For example, a coupon match-up for a sale on Colgate toothpaste at CVS might look like this:

Colgate Sensitive Whitening Toothpaste, $3.99
Get $3.99 ECBs (limit 2)
$1/1 Colgate Sensitive printable
$0.75/1 Colgate Adult or Kids Toothpaste, exp. 5-31-09 (SS 2/22/09)
$0.75/1 Colgate Toothpaste, exp. 4-18-09 (SS 3/29/09)
Moneymaker after coupon and ECBs!
The highlighted words are a printable coupon that, when clicked  on can be printed out right from the comfort of your own home (this one is just an example).  Typically, most printables can be printed twice if you hit the back button on your browser if it prints the first time.
Underneath the printable coupon are two coupons from past Sunday papers.  Most coupons are the same nationally, although some more rural regions differ occasionally.  Each of these coupons were from a SmartSource insert.  The first is from the February 22 insert and the second is from the March 29 insert.
My Organizational Method: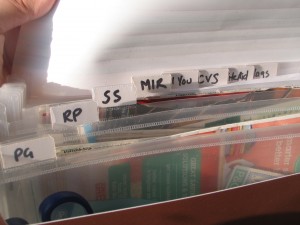 This Post May Contain Affiliate Links. See my Disclosure Policy.