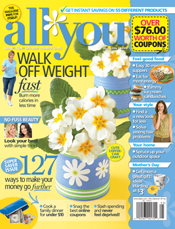 I am a HUGE fan of All You magazine.  It is FULL of great coupons and made for REAL women (which I just happen to be…thank you very much.)  I think it is the only magazine that I will read from cover to cover.
So I was super excited when the people behind All You contacted me to let me know that AllYou.com is all NEW!  I just checked it out and let me tell you, it is a VALUE destination!  Here are some of my favorite highlights:
EXCLUSIVE coupons such as $1 off Snapple and $1 off Success Rice.
An All You coupon index where you find out what coupons are coming out in the next issue of All You!
What are you waiting for?  Go check it out!