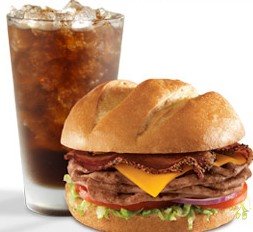 Don't forget that today is another Arby's Free with Purchase Wednesday!  If your local Arby's is participating (call around…one of mine said yes and another said no), then you can score a FREE Roastburger with any soft drink purchase.
Go here for more details.  You can also go here to find out how you may be able to score even more free Roastburgers!
On a side note: Last week, we decided to take advantage of this offer at our local Arby's.  When we got there, no one in the store had heard of the offer (even though we called earlier in the day and were told they were participating!)  So I waited patiently by while they looked through a stack of faxes from their corporate office and discovered that indeed, they were participating! So glad I could be of assistance!