A Note to my Readers:  My Mom once described coupons as those 'pretty papers she threw away with the newspaper."  That is, until I introduced her to shopping at CVS.  Now she and I giggle over the phone about our latest ECB deal and check up with each other on Sundays to be sure we remembered to pick up the paper.  She's hooked.
So I asked her if she would write a guest post about the unique and fun method she uses to organize her next trip to CVS.  She graciously agreed.
If you are a CVS newbie or even a veteran, this method is a great way to simplify your next CVS shopping trip.  Check it out and then enter her giveaway!
"If I can't see something, it doesn't exist."
–Nancy Hill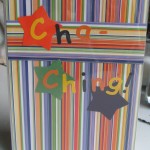 I get overwhelmed in the presence of confusion, so you can imagine how overwhelmed I felt when I started my CVS adventure.  Picture this: with my hands full of coupons I'm trying to push my cart at the same time that I'm leafing through a 14-page CVS flyer and watching my stack of ECBs flutter to the floor.
Then, let's see, is it the 4.0 oz., 4.2 oz. or the 4.6 oz. size? Is it the MaxFresh or the MaxWhite?  The Sensitive or the Advanced Whitening?  And when will I ever learn that Colgate is spelled C-O-L-G-A-T-E and Crest is spelled C-R-E-S-T?
Do you relate?  I thought so.
I am a visual learner. I can't make neat piles like some of my organized friends do, because if I can't see something, it doesn't exist.  I finally came up with a shopping tool that works perfectly for me.
At the $1 Store, I found a 4×6 photo album (in which I would never put my photos); you know the type, with the top-loading slip-in sleeves.  It's flimsy and flexible and fits perfectly in my purse. I decorated the cover of it, including, of course, the words Cha-Ching!
These are the steps I now take each week:
–When I get the latest CVS flyer, I go through each page with delicious anticipation and use a Sharpie to put fat black circles around everything that looks interesting.  (I try to get two flyers because I cut out the little ads with the colorful little pictures of the products.  Sometimes the ads are back-to-back, so a second flyer solves this little problem.)
–Then I pull up www.chachingonashoestring.com to study the current deals Kaley has  cooked up for me.
–Now I'm ready to cut out the pictures and product descriptions and slip them into my beautiful Cha-ching binder, one deal per sleeve.  Then I find my manufacturer coupons, any printed coupons or rainchecks and slip them behind the product picture.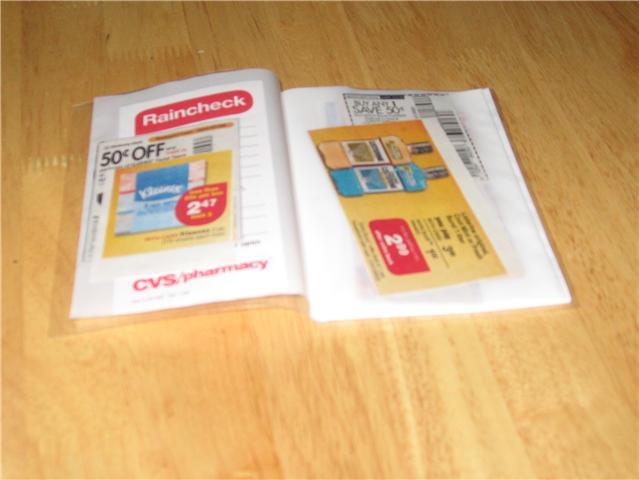 For example, currently in one sleeve in my album I have a cut-out with Hellman's 2/$4.00. Behind that I have a manufacturer coupon for  60 cents and a printed coupon for $1.00 off.  Since they ran out of Hellman's when this deal was running, I got a raincheck so that is also slipped in behind the picture.
IT'S ALL THERE!!  I CAN SEE IT!!  IT'S SO SLEEK, SO SHINY!! I AM NOT OVERWHELMED!!
I do this for all the specials I plan to take advantage of.  There are still some sleeves empty at the end of the album; these are important because this last step was stressful for me before.
When I find the product on the shelf and put it in my cart, I leave that picture in the sleeve but pull out the coupons and slip them in the designated sleeve in the back next to the ECBs from past transactions. (I leave the pictures so when I get my receipt I go over the list of ECBs and compare them to my pictures. Several times they have failed to give me all my ECBs-gasp!)
Are you still with me? Don't quit yet! I find the next product, drop it in my cart and pull out the coupons from behind the picture and put it in the same sleeve as the previous coupons. All the coupons I am going to need are in that one pocket ready to be pulled out and slapped on the counter.  Rainchecks should be in a third sleeve at the back of the album.
Now when I sashay up to the counter, I'm all ready and organized. 1) If I need rainchecks or if I'm using one, I start with those. 2) Then I put the rest of my products on the counter and let the clerk ring them up. 3) I pull out all my coupons from the one sleeve for her to deduct. So easy!  4) Finally I pull out the ECBs from their shiny home and watch the price shrink. Cha-ching!  Cha-ching!  Cha-ching!
If you think this is a tool that would work for you also, I have created three Cha-Ching! albums as a gift for the readers of this blog….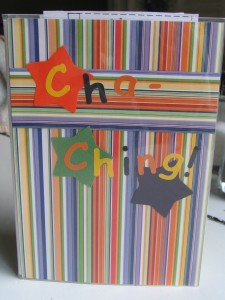 So what do you have to  do to enter?  So glad you asked!
Here is how you can enter this 72 hour giveaway:
Subscribe to our feed by e-mail or in a reader and leave a  comment telling us you did so.  (Yep–it's free!) If you are already a subscriber, leave a comment letting us know. 
We've joined Twitter! Get an additional entry by following us on Twitter and leaving a comment letting us know you are a follower.

If you tweet or blog about this giveaway, add an additional comment for each to receive extra entries in the contest.
This giveaway ends at 8:00 a.m. EST on Thursday, August 27 2009. We'll use Random.org to select the three winning comments. Winners will be notified by email and listed on this site.