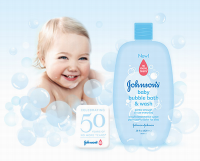 Send in your receipt for any Johnson's Bath or Lotion product dated 9/28/09 to 12/1/09 and you'll receive one Elegant Baby Bath Toy Frog Set (a $10 value).  Include your name and complete mailing address and send to:
Johnson & Johnson / Parents GWP
375 Lexington Avenue, 10th Floor
New York, NY 10017
Allow 6-8 weeks for delivery.
More details here.
There are coupons here or here. However, this would be a great opportunity to use the $1/1 Johnson & Johnson coupon from RP 9/20/09 (exp. 11-22-09) to score a FREE Johnson's Buddies Soap (most stores sell them for around $1.00.)  Then mail that receipt in to score a FREE Bath Set as well!
Thanks, Give Me Neither!