Would you like to have these great deals delivered right to your inbox? Subscribe to our email digest. Or if you use a feed reader, subscribe to our RSS feed. Thanks for stopping by!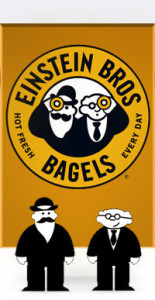 Update: It's an offer for a B1G1 Free Bagel that can only be printed today (2/9).  Just click on the 'Bagel Day' tab.   Expires 2/16/10.  Happy National Bagel Day!
Just a heads up that tomorrow is National Bagel Day (who knew?).  According to Einstein Bros. Facebook page, they are going to have a special celebration offer that goes live tomorrow.
You may want to become a Facebook fan now just in case!  I'll be sure to let you all know what the special offer is as soon as I find out!  (While you're there, why not become a fan of Cha-Ching on a Shoestring?  It's a good way to be sure you never miss another hot deal!)

I'm crossing my fingers for another FREE bagel!