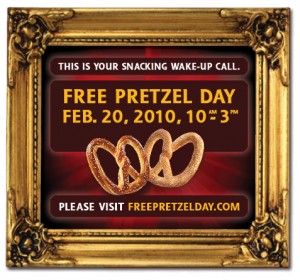 Be still my heart.  I heart Auntie's Anne's.  A LOT.
Mark it on your calendar.  On Saturday, February 20 from 10 a.m. from 3 p.m. Auntie Anne's will be giving away FREE pretzels!  You can choose between original or cinnamon sugar.  One per person.
(That means no dressing up in disguise to go back for a second one please.  I briefly considered this, but I know it wouldn't be right.)
Click here to find an Auntie Anne's near you.
Thanks for the heads up, Stephen!