Would you like to have these great deals delivered right to your inbox? Subscribe to our email digest. Or if you use a feed reader, subscribe to our RSS feed. Thanks for stopping by!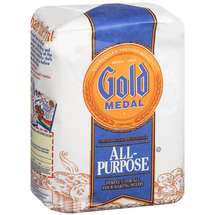 It's the beginning of the month and you know what that means!  NEW COUPONS!  (Some people may not understand the excitement this ignites in me–but I know you do!)
Coupons.com has a new $.75/1 Gold Medal flour coupon.  This is a very rare coupon and paired with a sale, you could score some CHEAP flour (it does say 'Do not double', but many stores will anyway). I would print this coupon now because it is sure to go FAST!
There are several other great new coupons on Coupons.com:
$.75/1 Nature's Own bread (GREAT doubling coupon!)
$.55/1 Yoplait yogurt (32. oz.)
$5/1 Talking Sid the Science Kid Plush Toy
…and many more.  Be sure to enter your zip code to find out what special offers are available in your area!
***In Other Coupon News***
Be sure to check out the new coupons at SmartSource and RedPlum too!  I recommend checking them out with a zip code first and then with a zip code.  Sometimes certain national offers don't show up with when you enter your zip code.