Would you like to have these great deals delivered right to your inbox? Subscribe to our email digest. Or if you use a feed reader, subscribe to our RSS feed. Thanks for stopping by!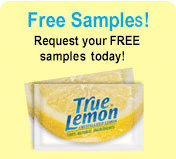 If you haven't signed up for this FREE sample of True Lemon, True Lime, and True Orange sweetener yet, it's still available.
You will need to click on the link in the e-mail that you receive after signing up.
Thanks, Freebies 4 Mom!