Here's another edition in the Dollar Store Diva's Valentine's gift ideas.  Pretty sure this one is my favorite so far!

***

One morning I tried McDonald's Fruit and Maple Oatmeal, and after the first spoonful I was a woman in love. I took note of the ingredients and decided that it would be easy to make this morning treat from my own kitchen. I gathered my supplies– oatmeal, brown sugar, craisins and apples–and I was good to go. In addition, I had just read an article in Real Simple magazine listing the top 30 healthiest foods. Old fashioned oatmeal was on the list, along with skim milk and walnuts, so I added walnuts to my bowl, and cooked the oatmeal with skim milk. Now, healthy ­and delicious.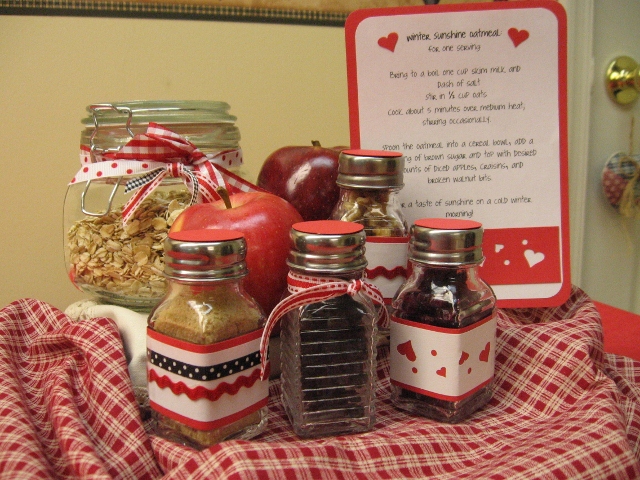 So, how about giving the gift of a hot comfort food for a cold February morning? I bought an air-tight jar at the Dollar Store, along with two sets of salt and pepper shakers. In the jar I measured two+ cups of old-fashioned oatmeal, and filled the salt and pepper shakers with brown sugar, craisins, walnuts, and—optional– raisins. Two fat, red apples, a printed copy of the recipe, and a DS basket completed the kit. [Thanks go to The Best of Paper Crafts Magazine for sparking the decorating idea.]
Note: To save time but still offer a fun Valentine's gift, just tie a ribbon around the neck of each of the jars instead of all the decorative touches.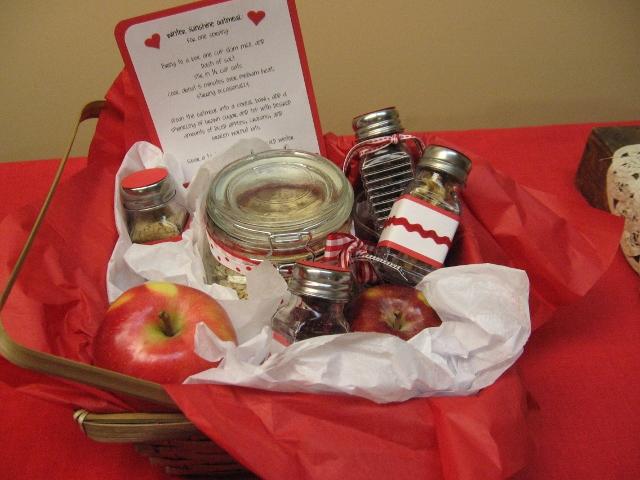 I suggest that you find out if the recipient likes oatmeal before you surprise him or her with this gift!
The Recipe:
Winter Sunshine Oatmeal:
For one serving:
Bring to a boil one cup skim milk and a dash of salt
Stir in ½ cup oats
Cook about 5 minutes over medium heat; stirring occasionally.
Spoon the oatmeal into a cereal bowl, add a sprinkling of brown sugar and top with desired amounts of diced apples, Craisins and/or raisins, and broken walnut bits.
Savor a taste of sunshine on a cold winter morning!