Would you like to have these great deals delivered right to your inbox? Subscribe to our email digest. Or if you use a feed reader, subscribe to our RSS feed. Thanks for stopping by!
There are two HOT deals for photo products from Pixable today.  Check them out:
Right now, you can buy a Pixable 16 page hard cover photo book for as low as $5 SHIPPED from LivingSocial.    The offer is priced at $10 with shipping included.  But if you are a new member, you will receive $5 Deal Bucks when you sign up here, making this offer only $5!
To grab the offer, just sign in at LivingSocial, click "More Deals" on the left-hand side and choose "Little Rock".  It's listed under "Deals Nearby".
This offer ends today (2/24)!  Your coupon code will expire August 25, 2011.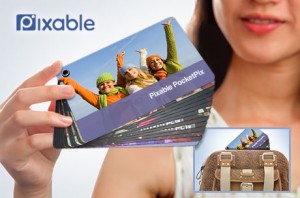 Plus Eversave is offering  this deck of pocket-sized pics from Pixable.com for just $5 plus FREE shipping ($13 value).  If you are a new member and snagged the free $5 credit when it was available last week, this offer will be FREE.  If not, then you'll get a $2 credit when you sign up here, making the offer only $3!
This offer is available through 2/26.   Your coupon code will expire Jan. 31, 2012.
Note: You will probably need to do two separate transactions to redeem both of these offers from Pixable.