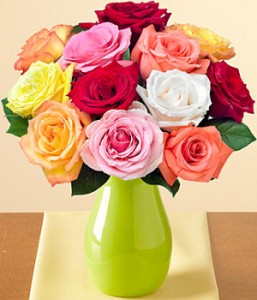 Last week was such a busy week that I forgot that we had a reason to CELEBRATE!!  On April 20, 2009, I introduced Cha-Ching on a Shoestring to the world.  Sigh…she's grown up so fast.
I celebrated her birth with a flower giveaway then, so I figured what better way to celebrate her two year birthday then to hold another great flower giveaway?!  (Not to mention Mother's Day is less then TWO weeks away!)
I am so excited to offer a $50 ProFlowers Gift Code to one lucky Cha-Ching on a Shoestring reader!
I had the opportunity to choose my own bouquet from ProFlowers as a part of this giveaway.  What a difficult decision!  I spent a good deal of time drooling over looking through their beautiful selection of Mother's  Day Flowers and other bouquets.  I finally opted to get the gift that keeps on giving and settled on a Potted Pink Calla Lily plant. It was a lovely addition to our Easter decor.
Looking for a discount?  (Of course you are!)  Right now when you 'Like' ProFlowers on Facebook, you can score a 20% discount and a FREE vase  with purchase.  You can also check out the Coupons page for additional discounts.

Here's how to enter:
You have up to five possible methods of entry:
Note: Be sure to scroll down to the bottom of this post to leave your comments.  (If you are reading this is an e-mail click here to do so.) By leaving a separate comment for each entry you will have a greater chance of winning!  E-mail responses will not be considered as an entry in the giveaway.
This giveaway ends at 10:00 a.m. EST on Monday, May 2, 2011. I will randomly select the winning comment. Winner will be notified by email and listed on this site.
Disclaimer: ProFlowers provided me with this giveaway and product for review.  The rest, as always, is ALL me!