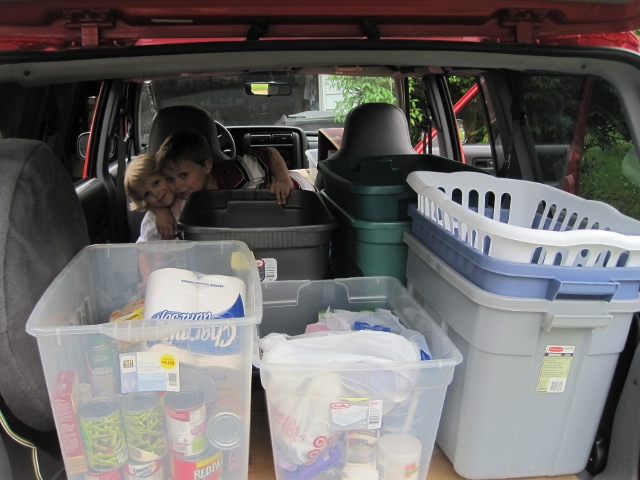 My boys helped me gather some items today to bring with me to our local Couponing for Community donation drive tomorrow.  See all those bins?  We want YOU to come out and help fill them (if you are local, of course)!
Here is one last reminder about the drive tomorrow:
Shannon from For the Mommas and I invite you to stop by Dunkin Donuts in Limerick on Saturday (5/14) any time between 1-3 pm at to drop off any non-perishable food or healthy and beauty items.  (Click here for directions.)  The drive will be benefiting Keystone Opportunity Center.

And of course, there are FREEBIES involved!  We will be offering a FREE $2 DD gift card for the first 50 people who donate tomorrow courtesy of Dunkin Donuts Philly. Plus Dunkin Donuts will be giving FREE iced coffee samples to everyone who stops by to donate between 1-3 pm.  (As a girl who is in love with DD coffee, this makes me a little giddy, I confess.)
Oh, did I mention the raffles?  Two words for you: Target and Amazon. Enough said.
Not local?  No worries! Giving is as simple as leaving a bag of non-perishable food items by your mailbox as part of the Stamp Out Hunger Food Drive on Saturday.
By the way, did you all see that we reached 10,000 items donated this week for Couponing for Community?  We are now coming close up on 15,000.  Watch out, 20,000, you're next!