Welcome to Cha-Ching on a Shoestring!   To stay in the loop on the best deals, freebies, coupons and more, subscribe to our FREE newsletter or subscribe to our RSS feed. You can even Like Cha-Ching on a Shoestring on Facebook to get up to the minute deals!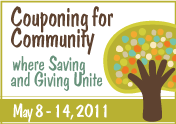 I get some crazy ideas.
So last year when I asked a few of my fellow bloggers to join me in using our couponing skills to make a united effort to give, I wondered if they might think my idea was…well…crazy.
But they didn't.  In fact, they actually wanted to do it again!
So this year, we decided to ask our readers to give again.  But this time…I wondered if we could  reach for a goal of 10,000 items in one week's time?
I was pretty sure that this time they might officially call me loopy.
But no.  I was wrong.  Again.
Instead, 127 bloggers and hundreds upon hundreds of couponers dug deep, gathered the fruits of their savvy money-stretching fingers, set out donation bins in their neighborhoods, contacted their news stations, gathered their coupon clubs, held donation drives, and GAVE.
And when I thought you couldn't give anymore, you just kept right on GIVING.
-And our 10,000 item goal?  You blew right by that number like it was a mere handful.
-So we set a new goal.  15,000 came and went like it was a Dr. Oz freebie (I'm guessing most of you understand what I mean.)
-So we thought, could we actually reach 20,000? Double our goal?!
The numbers keep coming, but as I write this post, the numbers have been tallied and during the week of May 8-14:
26,639 items
were given to those who are struggling.
26,639 NEEDS were met.
And now, my tears are flowing.  I'm humbled, blessed, and speechless at the way people (complete strangers!) across the country joined forces to give to those in need.  I am convinced that couponers are some of the most generous people I will ever meet.
This slideshow made up of pictures shared on our Couponing for Community Facebook page demonstrates this truth far better than my words ever could.  (And this isn't even the half of what was given!)
After you watch it, would you please just leave a comment or a link to your blog if you were a part of this effort?   I want to honor YOU.