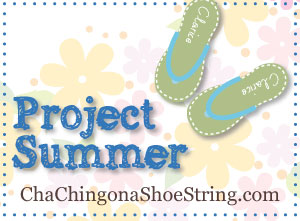 Welcome to my new series, Project Summer 2012!
As I shared last week, my goal is to share ideas, tips and strategies to make summer meaningful, memorable and fun.  (Because isn't that what summer is meant to be?)
I've spent a lot of time thinking through what I'd like this summer to look like.  With a newborn and the two older boys home from school, I know life will look a little different for us.  But I want to be intentional about our time–both the personal goals and the fun activities we have planned.
To begin, I sat down and wrote out a few personal goals for myself and my kids.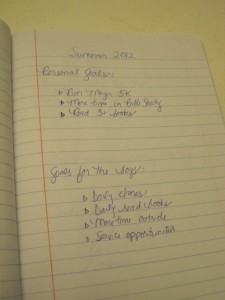 Did I mention that I'm keeping things simple?  I'm not planning on running any marathons.  I have three very simple personal goals.  But for me, there's nothing like getting goals down on paper.  Somehow that keeps me accountable to work toward accomplishing them.
Oh–and sharing them with you may help with the whole accountability thing too!  Feel free to ask me how I'm doing from time to time, ok?
How about you?  Have you considered what goals you'd like to set for your summer?  Have you written them down? Why not grab a pen and a notebook and jot a few down right now?  Feel free to share them in the comments too!