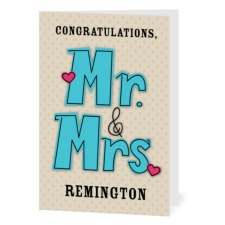 Through Wednesday (7/11) Treat is offering a FREE wedding or engagement congratulations card.  Just use the promo code TREATWED when you checkout to get the free card.
Here's how:
1.    Take a look at all of their card designs.
2.    Choose the one you want.
3.    Personalize it. This is where you can add pictures, change the text, add whatever you want.
4.    When you checkout, use the promo code TREATWED to get the card for free.
5.    You can choose to have the card mailed to them (this will cost you a stamp) or have it mailed to you for FREE.