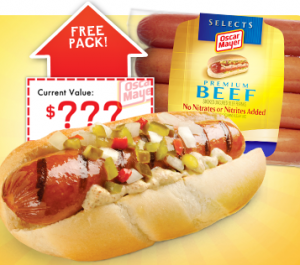 Just a reminder that you have until July 22nd to share your 'Taste-A-Monial' and help increase the value of this coupon.  It's currently up to $4.30 off a pack!
Head on over to the Oscar Mayer Facebook page and check out their Taste-A-Monial coupon offer.  Leave a comment about how you feel about Oscar Mayer Selects hot dogs or cold cuts and help increase the value of the coupon.  It could become a FREE coupon before the promotion ends if enough people participate.
The program runs from June 25th to July 22nd.
Never miss another deal! Subscribe to our FREE email newsletter or follow us on Facebook. Thanks for stopping by!