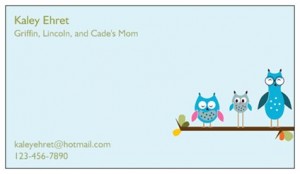 For a limited time, you can get 250 FREE business cards from Vistaprint (just pay shipping).  There are so many uses for these: Mommy cards, encouragement cards, Blog or Etsy shop business cards or even cute little recipe cards!
It's one way to be prepared for Back to School playdates, teacher meetings, and Moms groups.
Here's how to snag the deal:
Create your custom cards.  There are many cute designs to choose from.
Skip through the 'Special Offers' at checkout.
Shipping is around $7.
I have ordered from Vistaprint many times and have always been pleased with the quality and speed of processing.

Thanks, Kansas City Mamas!