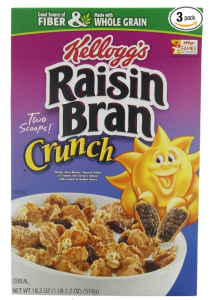 You can get Kellogg's cereal for as low as $2.30 each shipped from Amazon.com right now when you choose the Subscribe & Save option.
Here's how:
Raisin Bran Crunch Cereal, 18.2 -Ounce Boxes (3-pk), $7.95 ($2.65 ea.)
Apple Jacks Cereal, 12.2-ounce (3-pk), $6.92 ($2.30 ea.)
Corn Pops Cereal, 12.5-Ounce Packages (Pack of 4), $9.34 ($2.33 ea.)
Quaker Life Original Cereal, 18-ounce (Pack of 6), $17.10 ($2.85 ea.)
After your order arrives, be sure to cancel your subscription if you no longer wish to receive regular shipments.