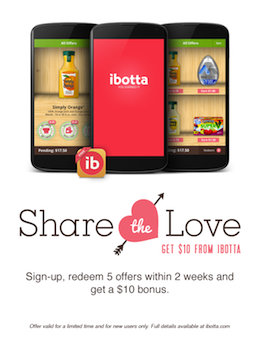 Have you signed up for Ibotta yet?  NOW is the time to do so.  Ibotta just announced that for a limited time,  new members can earn $10 when you sign up and redeem 5 offers within the first 2 weeks.
Don't forget to use your referral link to invite friends to Ibotta as well.  The more friends who sign up, the more bonuses you will receive: $1 when 1 friend signs up,  $5  when 4 more friends sign up, $7 when 5 more friends sign up and so on.
Don't forget about the HOT Banana Boat Ibotta deal at Target this week!
Not familiar with Ibotta?  Click here to learn more.