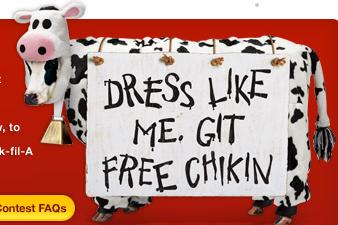 Just a reminder that this is coming up this Friday!
On Friday, July 12, 2013 Chick-Fil-A is celebrating Cow Appreciation Day by giving away a FREE meal to anyone who comes dressed as a cow!
Wear a partial cow costume and get a FREE entree.  But if you dress up from head to hoof, you'll receive an entire meal for FREE!
You can download their starter costume kit here.