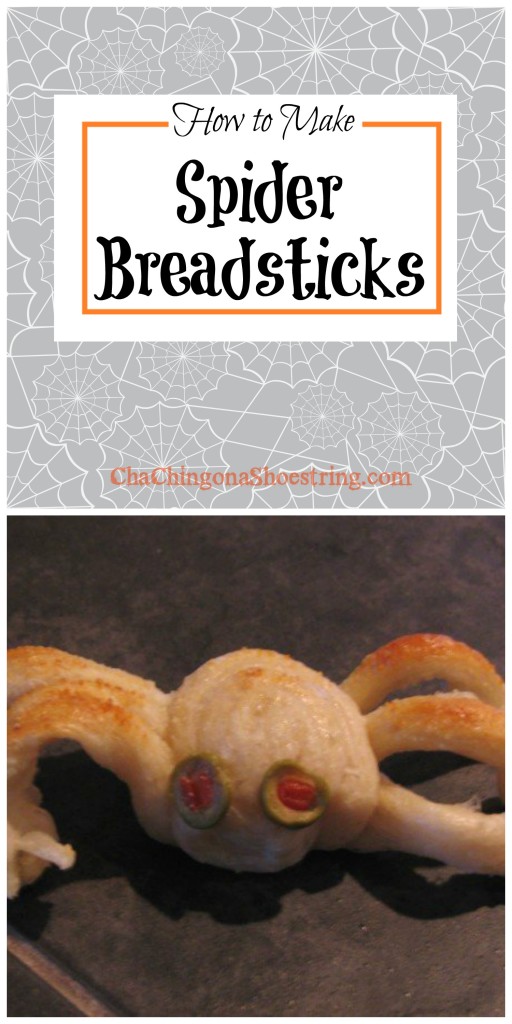 When my oldest son was one, I realized that it was possible that I was more excited about Halloween than he was.  He wasn't too thrilled about getting stuffed into a costume and being put on display for neighbors, grandparents and friends.  And at that age, he didn't see much of his candy (ahem).
To add to the fun, I decided at that time that I wanted to start a traditional food that we would eat every Halloween at dinner.   That's when I stumbled across this Spider Breadstick recipe from Pillsbury.   It's simple, which is good since there are always a few distractions the night of October 31st.  The most time-consuming part is attaching the legs, but if your kids are old enough, they could help.
What you need:
1 can (11 oz) Pillsbury® refrigerated breadsticks (12 breadsticks)
1 egg white, beaten
3 to 4 small pimiento-stuffed olives, sliced
Recipe:
1.  Heat oven to 375°F. Unroll dough; separate at perforations into 12 breadsticks. Cut 4 of the breadsticks in half lengthwise; on ungreased cookie sheets, shape into 8 coils.
2.  Cut each remaining breadstick lengthwise into 3 strips, making 24 long strips. Cut each in half crosswise, making 48 short strips. Place 3 short strips on each side of each coil, placing ends under coil; pinch to attach. Bend strips in center to look like spider legs, or place crumpled small piece of foil (about 3×1/2 inch) under 3 "legs" to make them stand up in center. Brush breads with beaten egg white. Place 2 olive slices on each to look like eyes.
Note: I like to sprinkle ours with a little parmesan cheese before putting them in the oven.
3.  Bake 12 to 15 minutes or until "spider body" is light golden brown and "legs" are golden brown.
They recommend serving yours with chili, but we just like to enjoy ours with some pizza and a side of pasta sauce.
Yum!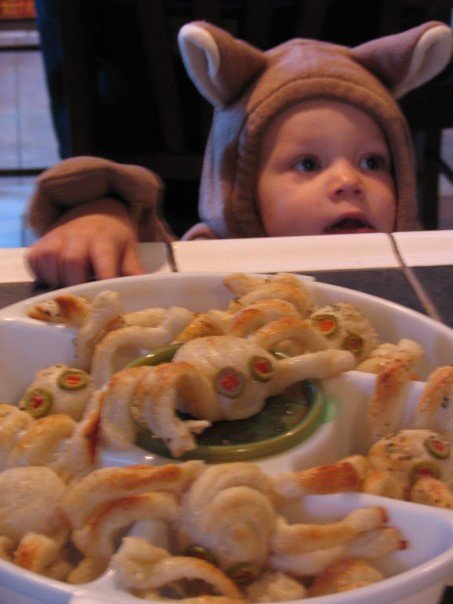 I think our little kangaroo approved.