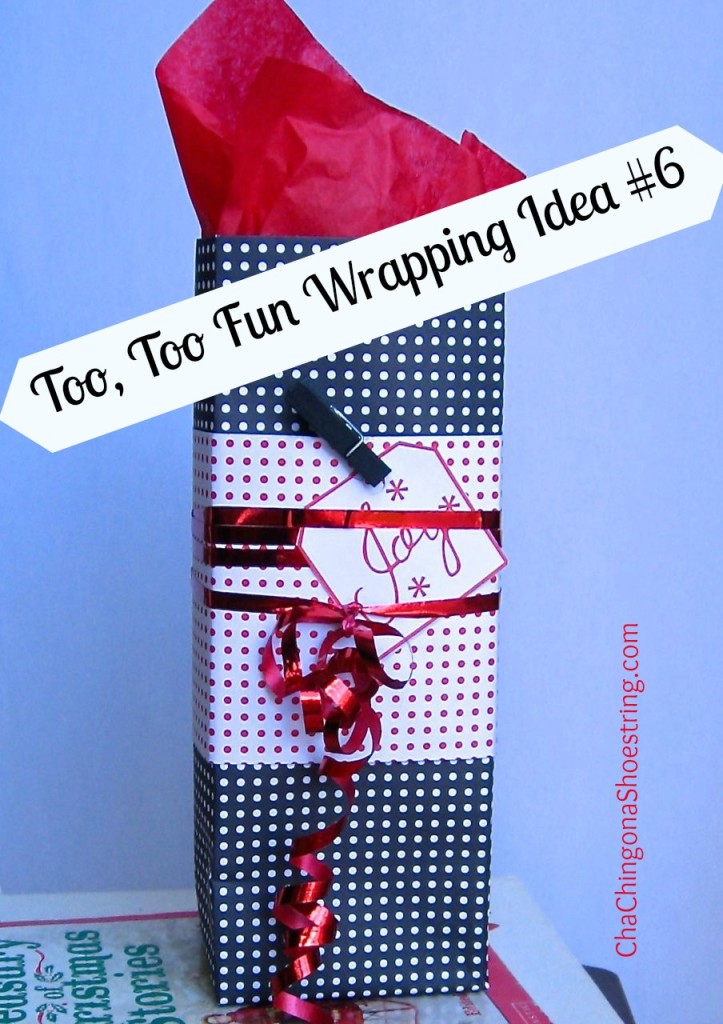 Free Joy Printable and Gift Wrap Idea
Here's another idea for wrapping around a box then removing the box leaving a nifty stand-alone gift bag – and I made free Joy printable tag to top it off!
For Idea #6, I used scrapbooking paper that I got at Michaels for 17 cents a sheet and a tall box I pulled out of my kitchen cupboard.
First, I wrapped the black polka-dotted paper tightly around the box and adhered it with double-sided adhesive.(Do not adhere it to the box.) Then, I cut a strip of the red dotted paper and wrapped that tightly around the black paper. Next, I wrapped some shiny red curling ribbon around the package a few times. The final touch was to slip in my Joy printable tag, then attach it with a black clothes pin. (Anything will do: adhesive, paperclip, brad, yarn.)
The final step is to pull the box out of your lovely gift bag and slip in a sheet of Christmasy tissue paper.
And there you have it: too, too fun wrapping idea #6.
Check out more Merry Little Christmas Wrapping Ideas.
***
For those of you who haven't met her, the Dollar Store Diva happens to be my Mom who has a special power.  She can transform Dollar Store and other inexpensive finds into super fun gifts that would brighten anyone's day!