I am very excited about a new money saving app that just launched called Checkout 51, which will earn you cash back on select groceries when you submit your receipt. This is similar to Ibotta, but if you don't have a Smartphone, you can just upload your receipts via your computer!
How Checkout 51 works:
Browse your offers and buy products at any store.
Upload your receipt using Checkout 51. (App available for Apple and Android phones.)
Checkout 51 will confirm your purchase and credit your account.
When your account reaches $20, you can cash out and they will mail you a check.
What is awesome about this app is that it can be used in conjunction with Ibotta, so if they are offering the same deal, you can take advantage of it twice! (i.e. Ibotta is offering cash back on milk this week and so is Checkout 51, so you can save twice!)
Take note that Checkout 51 offers go live on Thursdays at 12:00 AM in each time zone. They expire the following Wednesday at 11:59 PM in each time zone. You must submit the receipts while the offers are live.
Offers are also available in limited quantities, so you'll want to double check that the offer is still available before you make your purchase and be sure to upload your receipt right away.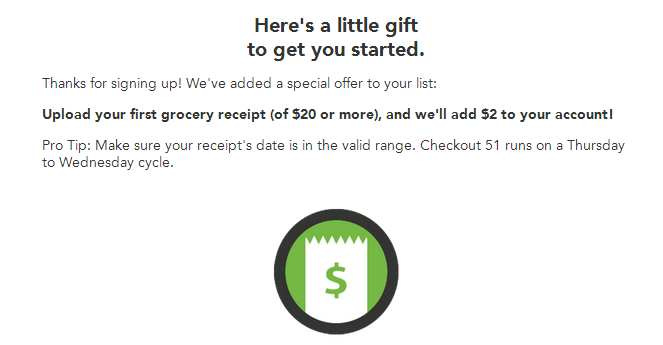 Right now they are offering a $2 bonus when you upload your first receipt valued at $20 or more!
Click here to sign up for Checkout 51.