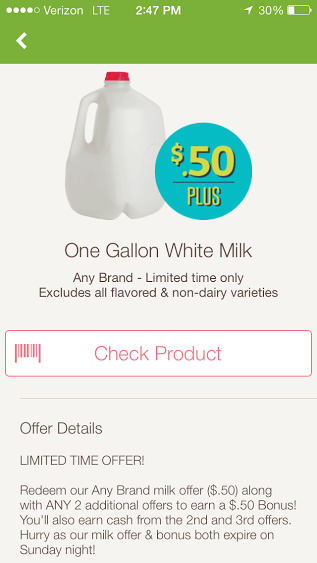 There are some great new Ibotta offers available, including my favorite ANY brand of milk offer:
Ibotta's Milk Offer:
One Gallon White Milk Any Brand – Limited time only Excludes all flavored & non-dairy varieties $.50
The Milk Bonus is Back:
Redeem our Any Brand milk offer ($.50) along with ANY 2 additional offers to earn a $.50 Bonus! You'll also earn cash from the 2nd and 3rd offers. Hurry as our milk offer & bonus both expire on Sunday night!
New Grocery Offers:
Rudi's Organic Bakery Any item, Any size $1.00
Bertolli Single Serve Meals Any variety, Any size $.50
Bertolli Multi-Serve Meals Any variety, Any size $1.00
Bertolli Desserts Any variety, Any size $.50
Bertolli Bonus:
Purchase all 3 Bertolli® frozen items and earn an extra $0.50. Bonus expires 3/13/14, or as soon as rebates expire.
Exclusive Perky Jerky Offer:
Perky Jerky Ultra Premium Jerky Any beef or turkey variety – 2.2 oz. bag only Offer only redeemable at Walmart or Home Depot $.50
Rudi's at Costco:
Rudi's Gluten-Free Cherry Almond Bars 24 ct. pack Offer only redeemable at Costco $1.00
Don't forget that you can still earn $5 for each friend you refer that redeems their first offer.  Let them know they can save money on milk right now and that should help!
Not familiar with Ibotta?  Click here to find out more about this awesome money-saving app!