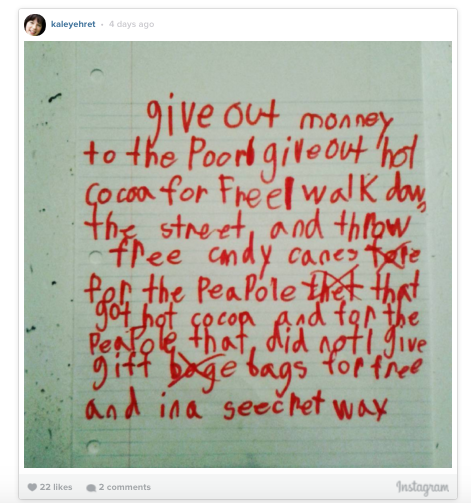 On Monday night, we brainstormed ideas for the week. This was my 7 year old's list. 
As I look back on our week of Random Acts of Christmas Kindness, I am kind of amazed. In pictures, it looks like we accomplished so much, but in reality, it didn't feel like that. Since it was our second year of RACKWEEK, some of the ideas came easily as we had already tried them out last year. Other ideas were so simple, like taking candy canes to community helpers with my 3 year old. But seeing the gratitude in return made the gesture feel so much larger than the effort that it took.
Other activities, like the cookie exchange took more effort to plan, but the payoff was time with fellow moms drinking coffee and laughing. So that really doesn't count as work.
If I have learned anything from this tradition we've begun each year, it's this: kindness is not as difficult as we make it out to be. Sometimes kindness is as simple as an unsolicited smile to a passing shopper in the store. But it's so easy to forget that in the busy-ness of every day life, isn't it? The joy I've seen on my kids' faces and the surprise and delight from the recipients of our RACKs reveal the truth: kindness is so very important, both for the giver and the recipient.
Also, kindness helps us find our J. See last picture for explanation. 🙂
Here is our RACKWEEK in pictures: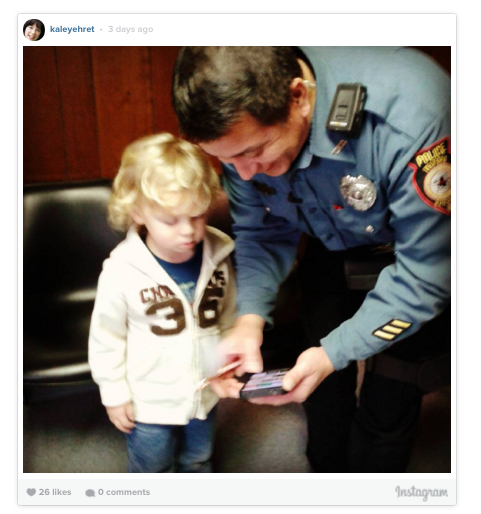 I took my 3 year old around town on Tuesday, armed with candy canes and notes of appreciation. One of our stops was our local police station to say Merry Christmas and thanks for their service to our community. I loved watching the interaction between my son and the police officer who was truly grateful for our little gift. Here he is showing him pictures of his kids on his phone.
I love that a simple candy cane not only gave us a chance to show gratitude to our community helpers, but allowed my son to see how much fun kindness can be.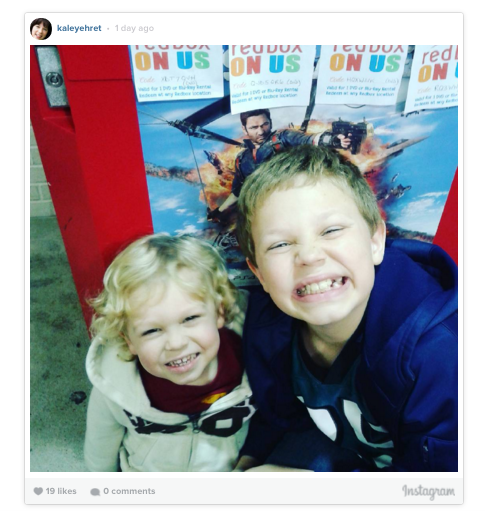 On Thursday night my boys and I carried out a RACK attack. (Note: calling anything an "attack" adds major cool points when planning involves three boys.) Our first stop was leaving a few codes for free movies at the Redbox. We drove by later and saw that two of the codes were gone, which made us happy.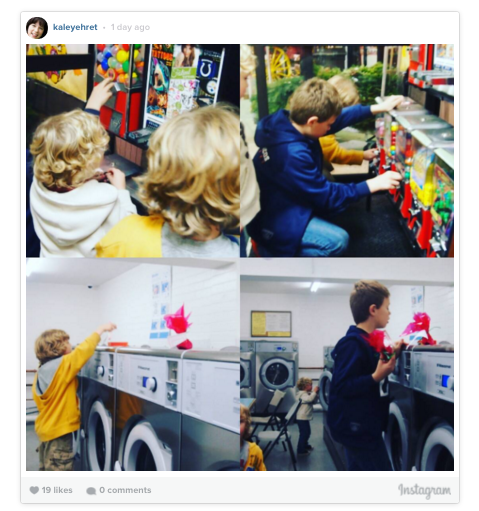 Other stops that night included leaving quarters in candy machines for some unsuspecting kids, leaving more quarters at the laundromat for some unsuspecting adults and taking candy canes to our librarians and local gas station employees to brighten their night.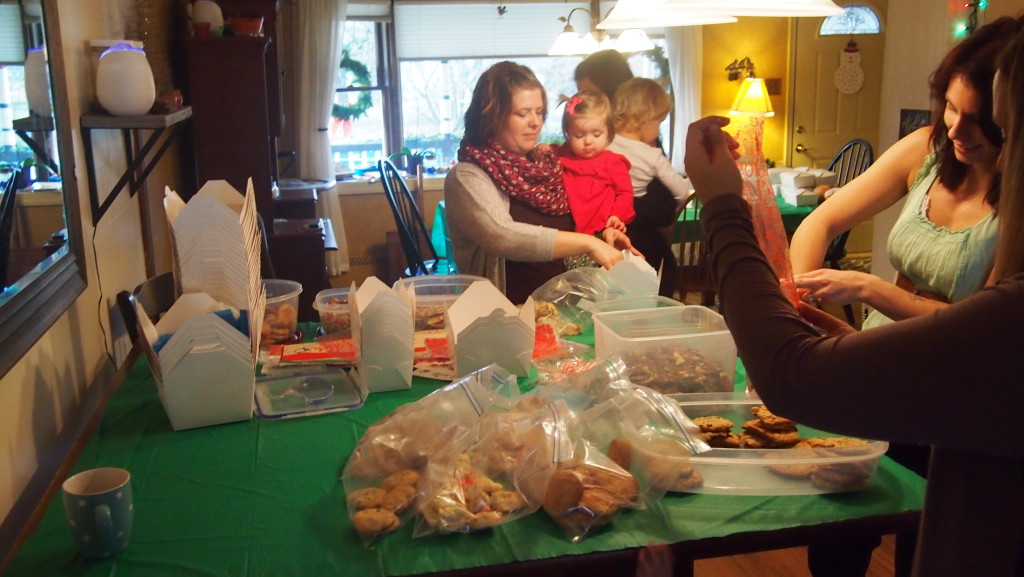 On Friday, my neighbor and I planned a Cookie Exchange. This was not your typical exchange though. All of the cookies that were brought to the party were packaged up in gift boxes as gifts for an organization called Derik's Jedi Project. They will be taken to Philadelphia and hand delivered to the homeless to offer them a bit of hope during the Christmas season.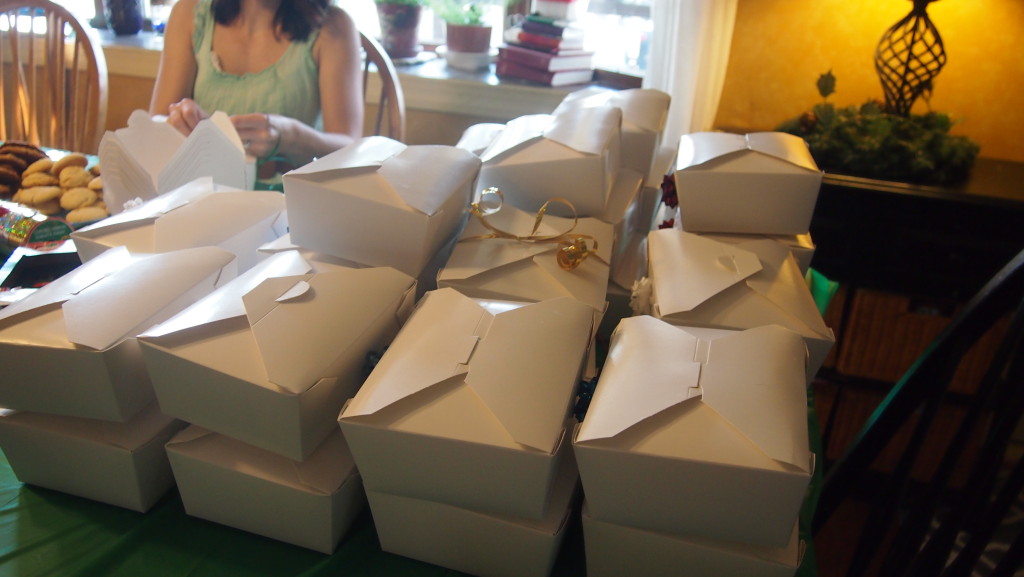 We ended up packing almost 35 boxes of delicious homemade Christmas cookies.  We hope they are a reminder to those who receive them that they are loved and valued.
I loved participating in such a tangible way of offering hope to the hopeless.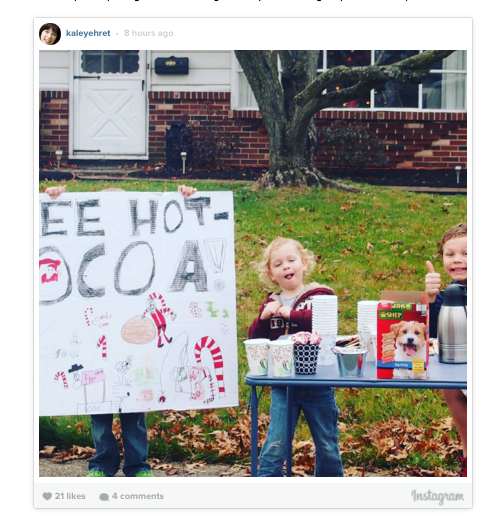 Our final RACK Attack of the week was a Free Hot Cocoa stand that my boys set up. They had so much fun with this. Unfortunately, not many people were out and about, but we had some neighbors who stopped by. That made it all worthwhile.
And finally, on Thursday night, I got a little real and raw on our
Facebook page
. In spite of the joy we had this week, there were moments when I felt like this:
Click
here
to read the entire post.
Did you participate in RACKWEEK? I'd love to hear your stories!