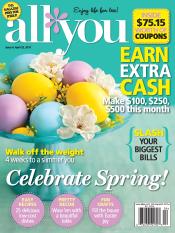 Just a reminder that tomorrow (2/17) is the last day to take advantage of this offer!
Right now, Amazon has 12 issues of All You magazine for $12.  That's only $1.00 per issue, which is a can't-beat price!
In case you didn't know, this magazine is jam-packed with coupon savings each month.  The magazine will MORE than pay for itself at this awesome price.  Consider it a small investment for big savings, kind of like buying a newspaper each week.
This offer is for a one-year auto renewal.  You can easily cancel the auto renewal at any time by logging into your subscription manager.  I believe your subscriptions take a few days to show up in your account, however.
Disclosure: I receive a commission for All You subscriptions purchased through the link above.