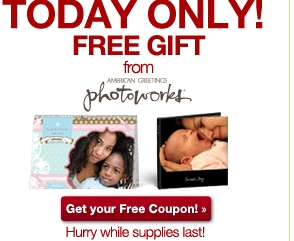 UPDATE:  Sorry, guys!  This offer has ended.  But if you haven't snagged the $10 credit for the Snapfish offer, it looks like it's still available here!
Hurry!  The Photoworks offer that I posted about yesterday is LIVE!  Hurry on over to AmericanGreetings.com to claim your code for a free clutch photo book, a 25-count pack of holiday cards, or an 11″x 8″ calendar!   Shipping will also be free on any of these items.  The offer is available to the first 20,000 and I'm sure it will go FAST!
You can also choose a $25 gift code if you'd rather.  However, the $25 code may not be used to purchase prints or gift certificates and does not apply to shipping and handling charges.
Once you have claimed your code, you can sign in here to get started on the project that you chose.  Just be sure to print out or write down your coupon code since you won't be able to get another one!