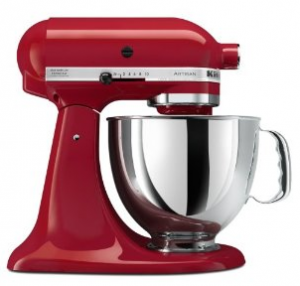 If a KitchenAid Mixer is on your Christmas list, Amazon has a hot deal going on:
Right now you can get the KitchenAid Artisan Series 5-Quart Mixer
in RED on Amazon for $237.29.  PLUS submit for two rebates and your price will be $195.29 (+ applicable tax).
Here's how:
Purchase the KitchenAid Artisan Series 5-Quart Mixer in Red for $237.29 with FREE Super Saver Shipping. (You'll pay a little more for other colors.)
Submit for the $30 KitchenAid Rebate (good from 11/13 – 12/10/11)
In the fine print at the bottom of the rebate form, you will see that you can opt to NOT get the subscription to either Food & Wine or Travel Magazine and instead get a $12 rebate.  You will need to send a copy of the rebate form to: Time Customer Service, Inc., P.O. Box 62708, Tampa, FL 33662-7088
KitchenAid Mixer – $237.99
Minus $30 Rebate
Minus $12 Refund
Pay $195.29 after rebate & refund!
I'm not sure how long this offer will last, so be sure to grab it asap if you are interested!

Thanks, Kosher On A Budget and Kansas City Mamas!